Quantified Commerce is a digitally native company that manufactures, and markets products directly to consumers. Their secret sauce is combining creatives and analysts under one roof, ensuring that their campaigns are both functional and memorable for their target audience.
Quantified Commerce began by concentrating its efforts on the underserved Indian market in 2014, and has since expanded its operations to Europe and North America as well. Today, they are rapidly gaining steam as one of the leaders in the competitive e-commerce space.
What Exactly Does Quantified Commerce Do?
Quantified Commerce is a vertically integrated company, meaning that they have brought as much of their supply chain as possible under their own roof to improve efficiency.
First, Quantified Commerce performs market research to determine what type of product would be a good fit for an audience they are targeting. Once they discover something that the public is clamoring for, they produce an entire product line to fit that niche in the market. Currently, they are capitalizing on the growing beauty and skincare product market in India. All the manufacturing is done in-house, allowing Quantified Commerce to ensure that every product is of the quality customers expect.
Once a product is produced, the next step is marketing it directly to the consumer. This cuts out the proverbial middle man, allowing the company to offer competitive pricing without compromising quality or profit margins.
Everything the company does is backed by data (the "quantified" in Quantified Commerce). This helps them make strong decisions about what to market and how to sell it.
Why E-Commerce?
In the digital age, e-commerce brands have many advantages over their more traditional counterparts. Online brands don't need to pay rent, utilities, or retail employees, helping to keep their overhead costs down. This provides an immediate competitive advantage.
Likewise, online brands can sell to anyone with an internet connection, while traditional storefronts have their target audience limited by their geographic location. Thus, digital brands have fewer expenses but more potential revenue.
Digital brands can also make more effective use of digital marketing. While traditional TV spots force advertisers to pay for an audience that has little to no interest in their product, platforms such as Facebook offer targeted ads. Links to a product's website can be provided directly in the ad, improving both click-through and conversion rates. As a result, e-commerce companies can get better ROIs on their marketing spend than firms following the classic storefront model.
Indeed, social media has been an integral part of Quantified Commerce from the beginning. Research suggests that nearly everyone with internet access is using it to browse Twitter and Facebook, so advertising on these channels is a simple case of meeting consumers where they are.
Quantified Commerce's Leadership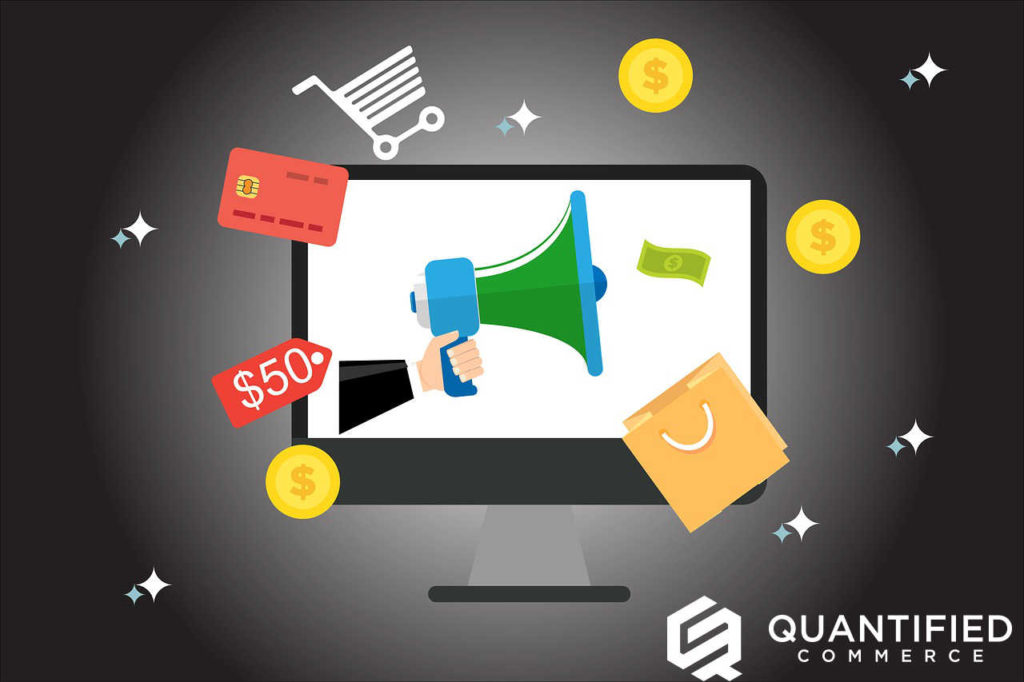 Quantified Commerce was founded by two leaders: Ryan Andreas and Agam Berry. Andreas began his entrepreneurial journey at the young age of 13, giving him more practical business experience than his age might suggest. He also studied business at Orfalea College of Business at Cal Poly San Luis Obispo, giving him a firm grasp of the theoretical components of running a company. Both attributes together make Andreas an excellent Managing Partner for the day-to-day operations of Quantified Commerce.
Andreas's business partner and mentor is Agam Berry. Berry graduated from Punjab University in 2010 and earned his first big break in the business world by using analytics to help sell unsold ad inventory. Today, he uses his strong understanding of the numbers to help Quantified Commerce make strong decisions on what to market and to whom.
Working With Quantified Commerce
If you're interested in learning more about Quantified Commerce or working with them on your e-commerce projects, you can visit them online at QuantifiedCommerce.com. You can also follow them on social media, where they post their latest insights on the fast-paced digital marketing industry. Give them a follow today and ensure you stay up-to-date on the latest news!
The post Quantified Commerce: The New Leader In E-Commerce? appeared first on FeedMyStartup.